Glo Brilliant Teeth Whitening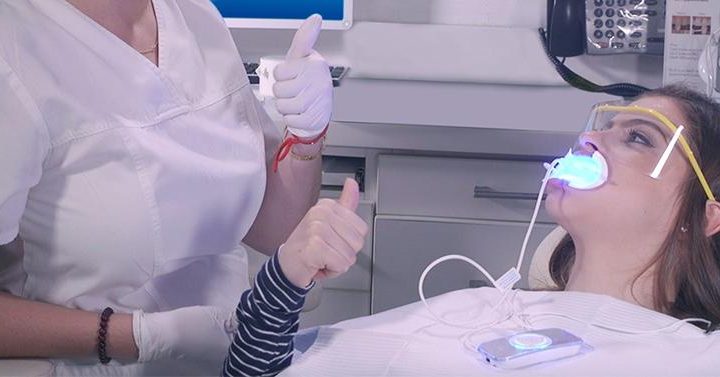 The power smile holds is inevitable. The wonders it bring for yourself and other people are more impactful depending on how you wear that smile.
At Luminous Smile Dental, we thrive to give our patients the latest treatments and technology a dentist can offer to provide the best results.
In doing so, our clinic partnered with GLO Professional Treatments to bring teeth whitening to a whole new level!
In-Office Whitening
This can be done painlessly within an hour!
Dr. Pineda is at the top of her class in doing the treatment as she continuously provide the best services available for each patients.
Along with the services of her delicate hands, the teeth whitening treatment also includes the technology of warming heat and light concentration powered by GLO and professional strength whitening gel.
Take Home Whitening
You can also bought a do-it-yourself whitening with the instructions given by our dentist.
The original, groundbreaking innovation in teeth whitening – the patented Glo Brilliant Teeth Whitening Device combines LED light and warming GLO heat to accelerate safe hydrogen peroxide whitening formulation for faster, easier, more effective whitening.
This Guided Light Optics (G.L.O.) warming heat technology is available only from GLO Science and is used in thousands of professional dental offices. Clinically proven to get your smile 5X whiter without sensitivity.
The minty fresh whitening gel comes in one-of-a-kind GLO Vials so it can be easily brushed directly onto your teeth for stay-put coverage where you need it (on your teeth – not on your gums).
Fast 8-minute applications are pre-timed for you and whiten the top and bottom teeth simultaneously.
The device is hands-free so you can whiten easily, as part of your regular beauty or grooming routine.
Glo Brilliant Teeth Whitening is FDA-registered. The whitening gel is vegan, gluten/latex/cruelty free, and made in the USA.
Turn on your GLO!
QUICK START GUIDE TO Glo Brilliant Teeth Whitening!
Get Set Up
Compact blue line image of a person's torso with a hand plugging a cord into a wearable GLO Brilliant device.
Start with a fully charged GLO control. Plug mouthpiece firmly into side of the control until you hear a click. Control won't turn on unless mouthpiece is attached.
Apply Lip Care
Compact Light blue outline of a GLO Science lip treatment being applied to lips on a white background.
Apply a thin layer of GLO Lip Care to the top and bottom lips (inside and out). If you are extra sensitive, you can apply Lip Care to the gum area as well.
Brush On Whitening Gel
Light blue outline of a GLO Vial being applied to teeth on a white background.
Pull cap off GLO Vial and squeeze 1/2 pea size amount of gel onto brush tip applicator. Brush thin layer on top and bottom teeth, fronts only.
Insert Mouthpiece and Press GLO!
Compact blue line image of a person's torso with a wearable Glo Brilliant Teeth Whitening Brilliant device and the mouthpiece in one hand.
Put the mouthpiece into your mouth and press the GLO button on the control to turn on. The mouthpiece will light up a brilliant blue. Relax your jaw, there is no need to bite down hard, and swallow as normal.
After eight minutes, the mouthpiece will blink and turn off automatically.
Repeat when needed!.
For best results, reapply whitening gel to teeth and repeat the process for a total of four consecutive 8-minute applications each day for 5 days, or until you achieve your desired results (up to 10 days in a row).
For more information, download the GLO Brilliant Teeth Whitening Device User Manual.
Ingredients:
TEETH WHITENING GLO VIAL INGREDIENTS: Distilled Water, Polyethylene Glycol, Hydrogen Peroxide (6%), Potassium Nitrate, Glycerin, Edetate Disodium, Sodium Saccharin, Sodium Fluoride, Sodium Hydroxide, Flavor.
GLO LIP CARE INGREDIENTS: Ricinus Communis (Castor) Seed Oil, Beeswax, Mentha Piperita (Peppermint) Leaf, Stearalkonium Hectorite, Butyrospermum Parkii (Shea) Butter, Vanilla Planifolia Fruit Extract, Menthol, Alcohol, Aloe Barbadensis Leaf Juice, Copernicia Cerifera (Carnauba) Wax, Tocopherol, Ammonium Glycyrrhizate, Ubiquinone. *Organic
Teeth Whitening GLO Vials are Made in the USA
GLO Lip Care is Made in the USA
In Office Take Home
GLO BRILLIANT TEETH WHITENING DEVICE
extra and dental
visit promo for only $553