Wisdom Teeth Removal Tooth Extraction California | Have you ever experienced pain inside your mouth that it feels like there is something coming out of your gums?
Well, in that case, you are experiencing the pain caused by the development of your wisdom tooth and you belong to the 65% of the population who were born to have this set of molars.
Wisdom Tooth Extraction
Wisdom Teeth Removal Tooth Extraction | Have you ever experienced pain inside your mouth that it feels like there is something coming out of your gums?
Well, in that case, you are experiencing the pain caused by the development of your wisdom tooth and you belong to the 65% of the population who were born to have this set of molars.
Wisdom teeth start to develop during your last two teenage years or during your late twenties. This is the third set of large molars found at the back of your mouth. While few people experience normal growth of wisdom teeth, most of the people are suffering.
Don't worry, it's normal!
But did you know that these molars do not just come out for nothing? Even though it gives pain to you, however, if it comes out healthy and properly aligned to your other teeth, this painful set of teeth will become one of your asset.
But if not, having unaligned wisdom teeth may cause you to feel sudden pain and can lead to other problems.
For example, there comes a time that while you are eating in your favorite restaurant, you will suddenly feel toothache due to the food debris that get stuck between your teeth.
This kind of situation will somehow make you think to consider having wisdom teeth extraction. A wisdom tooth that develops and grows out of alignment of your teeth will let you feel the pain on your mouth – to your teeth and to your gums – this is due to the impacted wisdom tooth that are unable to grow out from our gums properly leading it to be impacted with other molars.
When your oral surgeon suggests you to have a wisdom tooth extraction, you will be having a local anesthetic which will be injected to the tissues surrounding the tooth to lessen the pain of removing your wisdom tooth. After couple of minutes, your gums will feel swelling and numb, and once it takes effect, the dentist will start its operation.
Benefits of Wisdom Tooth Extraction
Now, if you feel like you need to have wisdom teeth extraction, the following may help you to be more convinced to undergo this kind of surgical operation.
Less Infection
An impacted wisdom tooth will make it harder for you to clean those areas between your teeth causing the bacteria to remain and to damage not only the wisdom tooth but it also harms other nearby teeth.
Contributes to the Stem Cell Treatment
Aside that you may feel relieve from the pain that your wisdom teeth bring, this benefit may convince you to proceed with the extraction. Can you believe that by removing your painful wisdom teeth, it can help someone in the future?
By storing the removed wisdom tooth, you can contribute to future's medical treatment for Alzheimer's, diabetes, and stroke.
Say Goodbye to Pain
By removing these set of molars, your other set of teeth will be able to occupy enough space preventing them to overcrowd your gums. Stopping your teeth to grow before it will result to
Reducing Risk of Decay
The earlier you remove those impacted wisdom tooth, the earlier you will save your healthy teeth. As much as possible, when you have started to notice that your wisdom tooth is growing out of the alignment, consult to your trusted dentist if you can undergo wisdom tooth extraction. This will help the other teeth to be prevented from cavities.
Leads You to A Proper Hygiene
We all know that it is hard to brush those teeth which are on the back part of our mouth and to be more specific, the impacted wisdom teeth. But, you don't need to worry because it will not give you a hard time anymore. Since it will be gone forever, you just need to brush your remaining teeth to prevent cavity formation on them.
Say 'No' To the Foul Smell of Your Breath
Having an out-of-the-alignment wisdom tooth will lead you to have bad breath. All the remaining debris from the food you have eaten being stuck between your molars will give your breath a foul odor. We know that you really don't want to have that. So, better get away with those smelly teeth
However, with all these benefits, it also comes with the disadvantages of having wisdom teeth removal. If not properly done, this surgery may cause more infection, bleeding, and worse, more surgical operations.
Best Wisdom Tooth Removal
Wisdom tooth removal is also a term used for wisdom tooth extraction. So never be confused between the two.
Anyway, let us reiterate what is the best wisdom tooth removal
To be honest, having a wisdom tooth extracted is the best done by a professional dentist or dental office. If you let a mediocre or a unprofessional dentist you will suffer eventually.
It clearly means that aside from prevention is better than cure, choosing the best dentist who can handle any occurrences for your teeth problems is still the best. But how can you determine it? Let us cite some examples.
The best Wisdom Tooth Removal must have a long years of experience. Why? Simply because a decade-long expertise is already know exactly what is the best!
Gives financial options and perks like discounts or promos.
Too careful and generous to you!
The bottom line here is that whether you are from the best Wisdom Tooth Removal will boil down to EXPERIENCE! To help you to decide whether to get away with those wisdom teeth or to keep it, here's a table of pros and cons of having wisdom teeth removal (credit to the owner):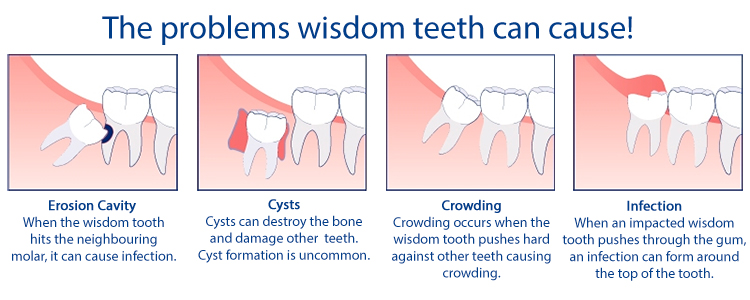 TIPS & WARNINGS for Wisdom Teeth Removal
Extraction of the teeth is one of the most painful dental procedure to date, just thinking of the bloody process send shivers to the spine of the patients. We're lucky that Thomas Green Morton invented the anesthesia to temporarily us save from the agony of extraction. Another problem for patients is the post-extraction pain of the surgery, after the numbing was gone, the immeasurable ache and swelling of the open socket starts to spread around the mouth.
The pain and swelling are normal, but there are ways to reduce the discomfort and help you through your road to recovery by following these simple tips.
1.Think ahead
Having a tooth extraction without preparation is like going to a war without knowing your enemy. Research about how the procedures work and to your dentist or oral surgeon about what to expect before, during and after the surgery, also ask for guidelines that you can follow before having your tooth remove.
Plan your preferred schedule to take your surgery, choose the best possible date that you will have a few days off for recovery following the procedure. You may also want to go with someone that can assist you on your way home.
2.Be vigilant
After the procedure, be observant with the food you eat. Start your diet with liquids right after your surgery, then gradually add solid food with softer texture like pudding. Avoid using straws and the intake of hot and spicy food as this kind of nutriments may cause discomfort to the accessible area in your gums. Take food with much cooler temperature to control the swelling inside your mouth.
3.Relax yourself
Hey, there's no need to rush yourself, just take it slow. Let your tissues heal itself. Rest as much as you can with your head elevated with pillow. Avoid any strenuous activity or heavy lifting. Take a week of break from exercising to recover in a much quicker pace.
4.Open-up your feelings
You will feel your mouth stiff after your surgery, because of the stiffness, opening your mouth may feel unreasonable for you, but it is important for you to open your mouth; otherwise, the rigidness can become permanent. The first time you open your mouth after surgery, do it slowly and gently.
5.Stay salty
After your wisdom tooth has been removed, concoct a mouth rinse consist of warm water and salt. Rinse this mixture several times a day, especially before and after every meal to lessen the swelling and pain in your mouth.
6.Pause the bleeding with gauze and tea bags.
You will be instructed by your dentist or oral surgeon to bite down a gauze to reduce the bleeding in your mouth, after few hours, you need to change the gauze to avoid infection or consider switching gauze with a damp tea bag instead. Tea leaves contain natural mineral to help you reduce pain and encourage clotting.
7.Listen to your heart, err, your dentist
Your dentist or oral surgeon may give you some instructions that may differ to our suggestion. To heal quickly as much as possible, always listen to your dentist or oral surgeon's tips and have yourself a much well-conditioned oral health.
Cheapest and Best Tooth Extraction Milpitas California
With all the tips and warning, pros and cons and others. We all know the biggest concern of the patient is the cost of the procedure. A tooth extraction cost roughly around $75 to $300 for non-surgical, gum-erupted tooth extraction, while for surgical extractions, the price range to $185 to $600 for soft-tissue and complicated surgical extractions. For starters, the price alone may raise some eyebrows, but the real things that should never be compromise is the quality of work. We all know how delicate and complicated our tooth especially having it surgically remove make things more complex.
Here in Luminous Smile, we offer the most reasonable price for every procedure we made with you. As tooth extraction, we can offer you the most affordable one without affecting the quality of our service. We can also provide the insights on when you need the extractions or if you really need one as there are other ways to deal with nagging tooth problems.
But if you are still hesitating to consider wisdom tooth extraction not because of the cons that it has but because you feel that it is still expensive for your pocket, well, worry no more, because this cheap service from Luminous Smile Dental will be cheaper because of the different dental insurances that will help you to afford cheaper wisdom tooth extraction.
Through dental insurance plan, a portion of your wisdom tooth removal and tooth extraction services will be shouldered by them. Some dental insurances are very substantial that it will answer the full amount for you. While some provide one-fourth or half of the total amount that you have consumed.
Don't worry, Luminous Smile Dental accepts and partners with various dental insurance companies. What we want is to give you the best smile that you will ever had so you do not need to keep your mouth shut and fake your smile every time. The cheapest dental clinic are affiliated with dental insurance to help you to afford complex dental services such tooth extraction and wisdom tooth removal.
In fact, in Luminous Smile, even with its cheap amount for wisdom tooth extraction or removal service, surely our dentists will give the best deal for you. The quality of wisdom tooth removal work that we are offering will not be affected despite of the low-cost amount of the service.
Aside from these complex dental services, most of the dental insurances cover for the full amount of preventive services such cleanings, oral exams, fluoride, and sealants. Even portions from the total amount of periodontal services like periodontal maintenance, full mouth debridement, and scale and root planning are also answer by the insurance companies.
Dental insurances will not only cover the dental services for you but it can also shoulder the expenses of dental services of your family members. With this kind of benefit will help you to monitor your dental health and take care not only your teeth but also the smiles of your loved ones.
With our team partnered with different dental insurance companies, say good bye to the pain caused by your unaligned wisdom teeth molars and say hello to your beautiful smile because in the most accessible and cheapest way, you may now consider to remove those wisdom teeth.
Plus, if you are too busy with your work or with taking care of your kids, our friendly staff will always be there to remind you that it is time to clean those teeth again to maintain its healthiness and whiteness.
Knowing these and those pros, are you still unconvinced of having wisdom tooth removal and tooth extraction?
Tooth Extraction Procedure