Tooth-Colored Fillings
For over 150 years, cavities were filled with a mixture of metals, including silver and mercury. It was perfectly normal to see dark grey areas in someone's mouth when they laughed.
But today, you can get your cavities, as well as any other smaller hollow areas in your teeth, filled with composite fillings. Composite fillings are made from resins that are matched to your tooth's color – so they become invisible when applied.
Composite fillings also provide an excellent seal on the affected area, so that tooth decay can be prevented.
The factors that go into our decision to use composite fillings include:
The size of the area that needs to be filledTooth
The location of the affected area in the mouth (i.e., a tooth that is heavily relied on for chewing)
Allergies the patient might have
The preference of the patient regarding the use of metals in the mouth
Whether it is necessary cosmetically to have a tooth-colored filling
Tooth-Colored Fillings are now used more often than amalgam or gold fillings, probably due to cosmetics. In a society focused on a white, bright smile, people tend to want fillings that blend with the natural color of their teeth. Ultimately, the best dental filling is no dental filling.
Tooth-Colored Fillings are made from a mixture of fine glass and plastic particles. They are customized to match your enamel to blend in when you smile. Although they aren't made from metal, they are durable. They generally last 10 to 12 years before needing to be replaced.
The advantages of Tooth-Colored Fillings
There is no health risk associated with these fillings. They can be color matched to ensure they blend in well with the teeth that surround them.
Resin composite fillings are made of a ceramic and plastic compound. Because resin mimics the appearance of natural teeth, these fillings blend right in. They're also known as "white fillings" or "tooth–colored fillings."
Composite fillings are an attractive option because they can be closely matched to the color of your teeth. However, composite fillings are more expensive than silver amalgam fillings and are not as durable. Ceramic fillings are made of porcelain and are a very aesthetically pleasing option that is also very durable.
Also, whitening procedures will not work on exposed tooth roots because roots do not have an enamel layer. Tooth-Colored Fillings, crowns and other restorations. Tooth–colored fillings and resin composite materials used in dental restorations (crowns, veneers, bonding, bridges) do not whiten.
Metal-Free Dentistry
Olszewski frequently recommends Tooth-Colored Fillings instead of silver fillings because they provide greater aesthetic and functional benefits, along with lasting patient satisfaction. For many patients, metal-free dentistry is important for more than just aesthetic reasons.
Are amalgam or silver fillings stronger than white or tooth-coloured fillings? Although white fillings once had a reputation for being less hardwearing, technology has moved on rapidly over the last decade, and white fillings are now much stronger.
White Tooth-Colored Fillings are weaker than silver fillings and might not last as long. There is a higher chance of cavities reforming under the filling, called recurrent decay, with white fillings. White fillings tend to be more expensive than silver fillings.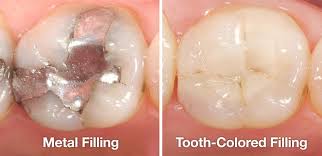 Do all cavities need fillings?Is a dental filling always required to treat a cavity? In short, the answer is no. Dental fillings are used to treat cavities because a dentist tends to want to remove the decayed part (the cavity) and fill it to stop any further damage from occurring.
Are white fillings strong?Modern white fillings are much stronger than those from several years ago. … They are, however, very strong and a well-placed amalgam filling can last for several years. More modern white fillings are also now very strong and can also last several years when placed correctly and when used in the correct situation.
Fillings AMALGAM VS White Fillings
Watch: Tooth Colored Fillings